A Scottsdale Chiropractor who does more
Search through our services and resources Voted "Best Chiropractor by AZ Foothills Magazine"
Welcome to the office of Dr. Jeffrey Robinson a North Scottsdale chiropractor dedicated to not only spinal health but overall wellness and vitality. He is highly experienced having treated patients for over 20 years, helping everyone from infants up to 95 year old patients! Dr. Robinson's approach to treating Sport injuries, Auto accidents, Work injuries, Neck pain, and low back pain emphasizes overall health and wellness. We accept almost all PPO insurance companies, Medicare and Auto-accident liens. For patients with high-deductibles and no insurance; we have cash rates/family plans. We can provide same day x-ray/MRI/lab-work prescriptions and have numerous orthopedic/neuroglial specialists who we refer to should patients require.
At AZMulticare we pride ourselves in being more than just a Scottsdale chiropractor by incorporating innovative diagnostic techniques like Applied Kinesiology. This testing along with routine blood work allows us to individualize each patient's treatment plan and to optimize treatment outcomes. Helping guide our patients in their quest relieve their pain is our goal. But improving the quality of their life is our priority. We want our patients to live a full active pain free life and our services are just a part of that.
Maybe you have seen a chiropractor in the past or are seeking a local Scottsdale chiropractor as a first time patient.  Expect your experience at AZMulticare to be different from any healthcare experience you've had in the past.  Maybe even something that changes your life forever.   Chiropractic care relieves subluxations (misalignments) from the spine, stiffness is reduced and improvement and motion is restored.  The Following conditions can all improve with manipulation that is needed;
Neck pain

Low back pain

Shoulder pain

Foot/Ankle pain

Headaches/Migraines

Mid back pain
We also then incorporate our other therapies to complement the chiropractic treatment to deliver the fastest results possible. 
We do our very best to get emergency cases in the same day and have same day appointments available most days.  Call today to see how we can help you with your condition. 
Dr. Jeffrey Robinson DC is a Holistic Doctor and Scottsdale chiropractor. Utilizing Applied Kinesiology with Integrative nutritional medicine and a good clinical history enables him to provide a wide scope of care and diagnosis numerous health conditions.
Dr. Robinson has worked on athletes in the NBA, NFL, NHL, MLB, PGA Tour, and LPGA Tour. But have also been privileged to help patients in the recovery from some of the most challenging health disorders such as MS, Cancer, Lyme Disease, Mold toxin Illness, Hashimoto's, Rheumatoid Arthritis, Colitis, and Fibromyalgia to name a few.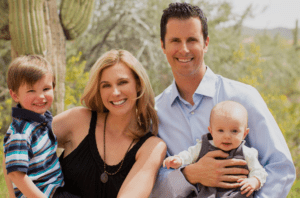 He did his undergraduate work at the University of Windsor. There he was introduced to Human Kinetics, Biomechanics, Exercise Physiology, and Human Anatomy. With a passion for healing, he decided to pursue Chiropractic at Southern California University of Health Sciences in Whittier, CA. While there he was exposed to Nutritional and Eastern philosophies of healing and pursued learning in those fields upon graduation.
After graduating he chose to study Chinese medicine and became licensed in acupuncture in 2006 and complimented his study of acupuncture and chiropractic with a thorough education in functional medicine.
In 2010 he began implementing Applied Kinesiology into his practice and watched some of the most astonishing patient transformations of his career. Applied Kinesiology not only provided one of the most valuable diagnostic methods for problems in the structural system of the body but also showed the impact of Food Toxins/Sensitivities, Heavy Metals, Parasites/Fungus/Virus/Lyme/Candida/Bacteria, Chemicals, Mold toxins (Mycotoxins) and their effects on human function.
Dr. Robinson has published two papers on the topics of Mycotoxins and Biofilms, both of which he has had personal experience with and are contributors to many complex health disorders.
In his spare time he enjoys playing golf, hockey, skiing, biking, hiking, working out and spending time with his wife and kids. He also enjoy the outdoors and loves fishing especially when he goes home to Bracebridge, Ontario, Canada.
How is Dr. Robinson a "different" Chiropractor
?